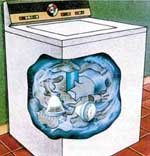 Instructions for Using the T-Wave Trio Laundry System :
1. Load clothes in the washer. Load accordingly for front- or top-loading machines.
2. Place all three capsules on top of clothes or inside door.
3. Start the washing machine.
4. Leave capsules in the machine for the entire wash and rinse cycle.

5. Remove the capsules from the machine between uses.
Gentle on Fabrics, Easy on the Environment
When you use our T-Wave Trio Laundry System, you are contributing absolutely no harmful chemicals to the environment. The T-Wave Trio Laundry System eliminates allergenic residue from your clothing and actually prolongs fabric life by cleaning your clothes naturally.

Cost-Effective
Your T-Wave Trio Laundry System lasts up to 700 wash loads in a top-loading machine and 500 wash loads in a front-loading machine. For the best results, follow recommendations on clothing and add one to two capfuls of Tsunami Wave Booster to heavily soiled loads. Always pre-spot stains or heavily soiled laundry with Tsunami Wave Booster.
Contact us for additional information on caring for clothes using our natural solution.